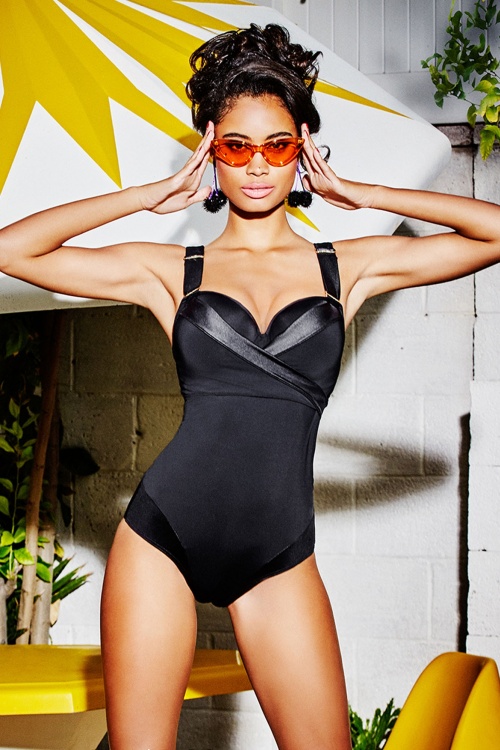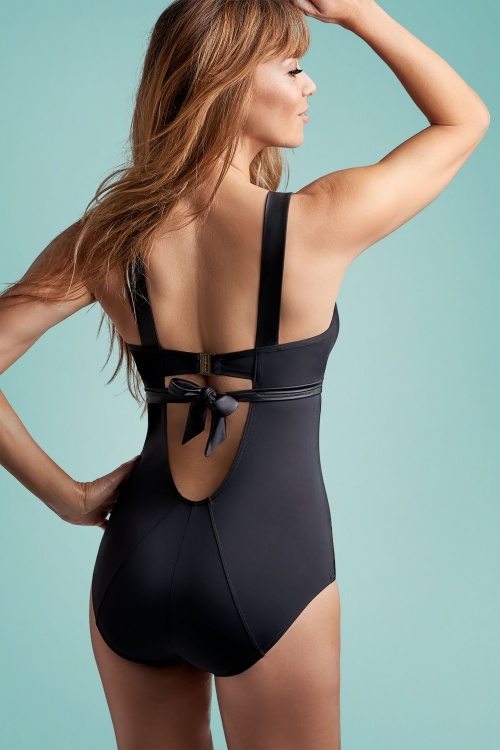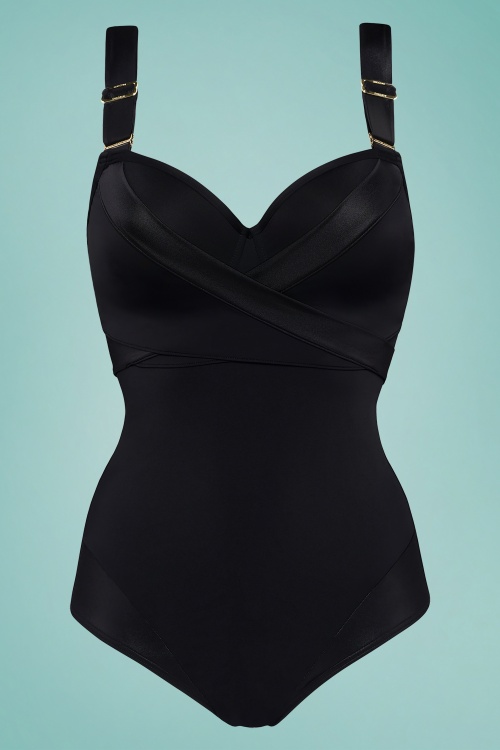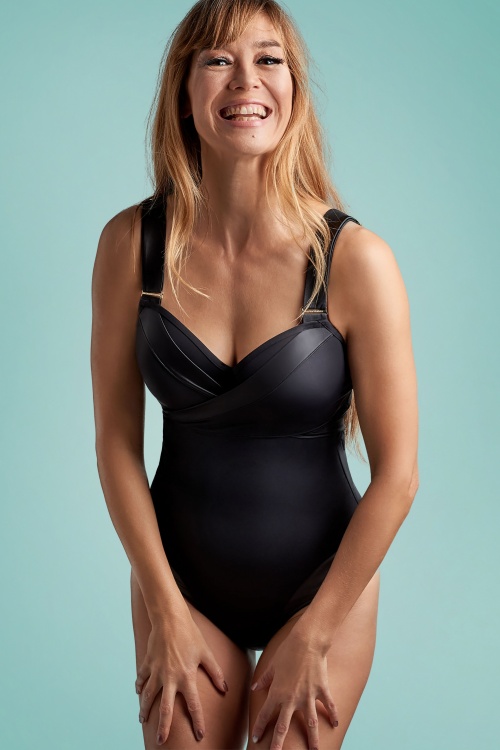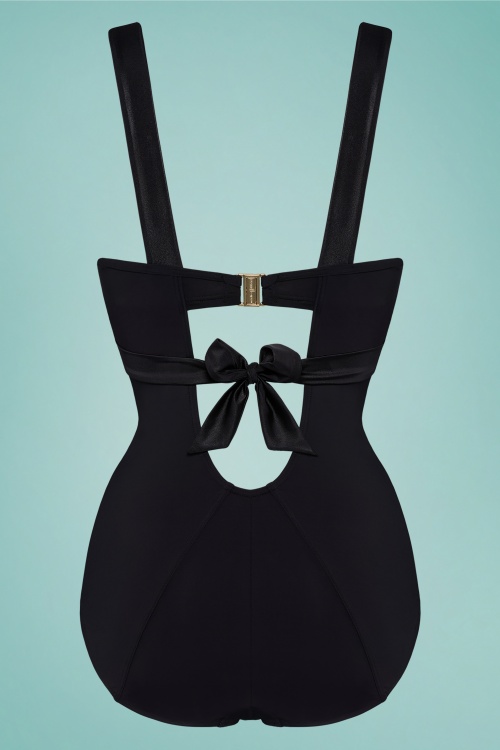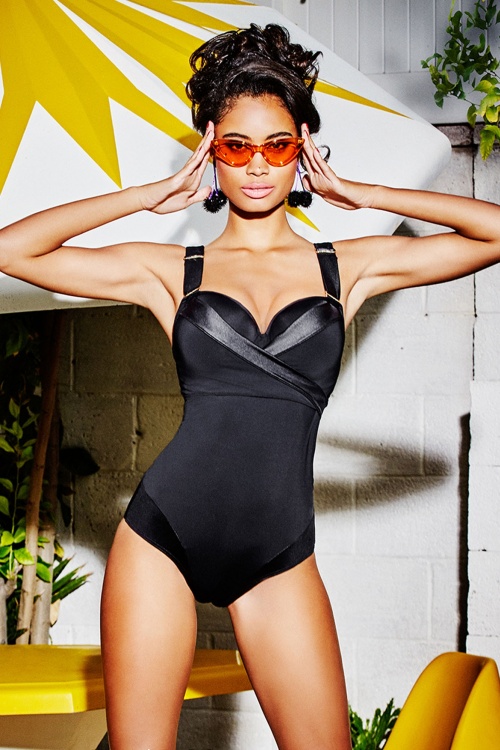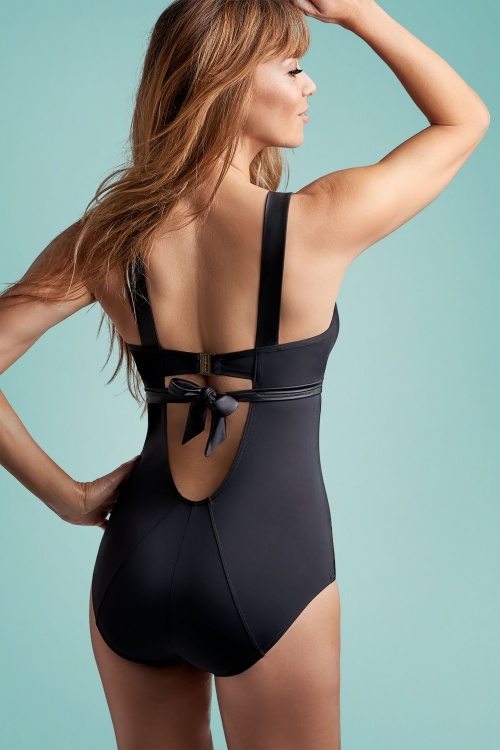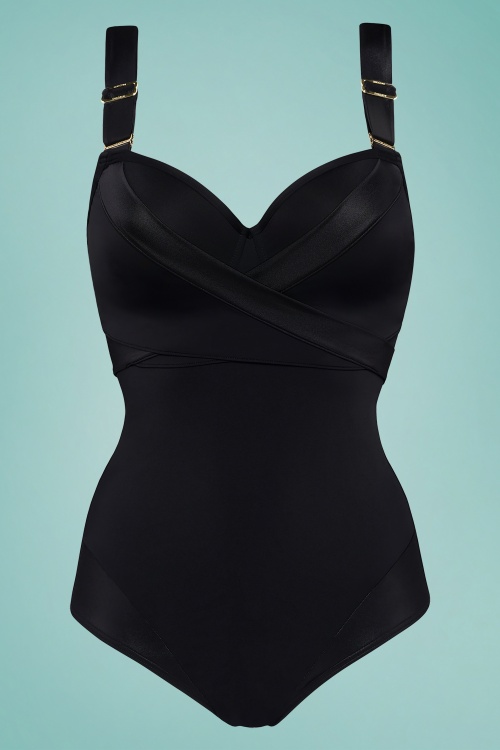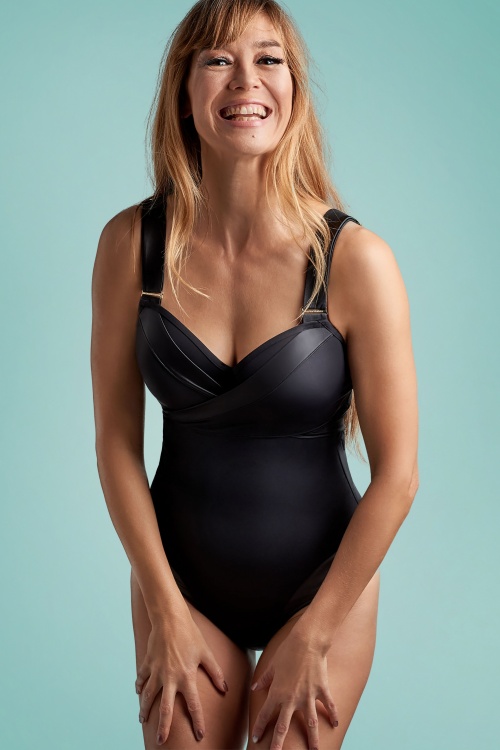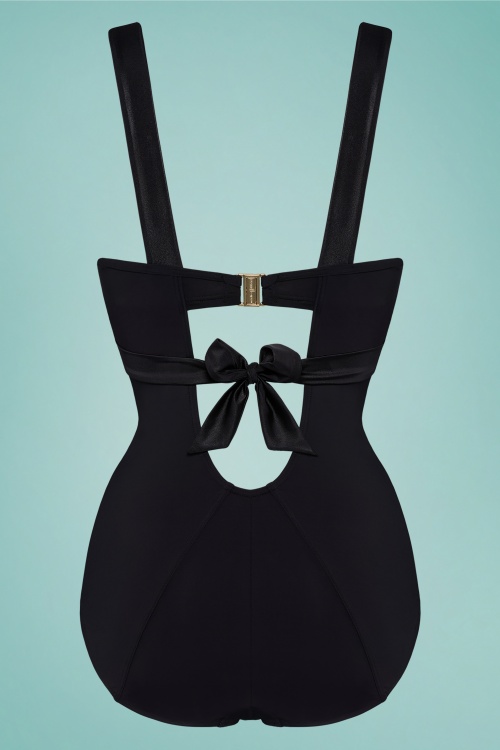 50s Cache Coeur Plunge Balcony Bathingsuit in Black
The beach will be your runway this summer! Forget about those flashing lights... sun, sea and beach are all you need to shine in this 50s Cache Coeur Plunge Balcony Bathingsuit in Black! The matt black fabric contrasts with a glossy black fabric to give this bathing suit a sensual and luxurious look. The wider shoulder straps provide extra comfort and are finished off with classy, gold toned details. The molded cups provide some extra support for your breasts and give you a ravishing cleavage. The back is just as alluring with its openwork panel finished off with a playful tie detail... ooh la la. Made of a luxurious, double, stretchy fabric that is a joy to wear and fits perfectly. Don't forget to cast a sensual glance over your shoulder while you're making your way from your deckchair to the sea... give the audience what it wants! ;-) 
Balcony bathing suit
Molded cups
Luxurious double fabric
Contrasting, silk-like black fabric
Wider, adjustable shoulder straps provide extra comfort
Open back with tie detail
Low-cut legs so the groin area and buttocks are covered partially 
Please note; hand wash your bathing suit and treat with care
Doesn't the famous Dutch beauty Beertje van Beers look stunning in this Balcony Bathingsuit?               
Article nr.
27901
81% Polyamid
17% Elastane
2% Polyester
Gold tone base metal
Nickel free
Do not wring! There are little loops to the side of the tie straps. Please cut off these yarn loops carefully before wearing the bathing suit!
Handwash in lukewarm water (don't leave it in the water)
Do not dry clean
Do not tumble dry
Do not iron
---
nl
Nog niet helemaal zomer klaar!
Ik had dit badpak al een tijdje in het vizier, maar de prijs hield mij tegen van aanschaf. Uiteindelijk toch besteld (en nu besloten om het badpak retrour te zenden) Je merkt dat het t... Read moreevens een lingeriemerk is, waardoor de cup de juiste ondersteuning geeft. Iets wat ik zeker van het badpak kan waarderen. Ook is het model precies zo, zoals op het plaatje. Maar mijn lichaam helaas niet! Ook geen punt, maar ik had wel de verwachting dat de lycra van een zwaardere kwaliteit zou zijn en dus wat meer "in bedwang" zou houden. Dat is het dus niet het geval. Het materiaal is van een dunne kwaliteit, in combinatie met de extra bandjes, is dit wat minder flatteus dan dat je hoopt. Voor iemand met modelmaten, is het dus een prachtig badpak, maar ik zoek nog even verder :)
Robin van Rooij
&nbsp|&nbsp
24-05-2019
nl
Nog niet helemaal zomer klaar!
Ik had dit badpak al een tijdje in het vizier, maar de prijs hield mij tegen van aanschaf. Uiteindelijk toch besteld (en nu besloten om het badpak retrour te zenden) Je merkt dat het t... Read moreevens een lingeriemerk is, waardoor de cup de juiste ondersteuning geeft. Iets wat ik zeker van het badpak kan waarderen. Ook is het model precies zo, zoals op het plaatje. Maar mijn lichaam helaas niet! Ook geen punt, maar ik had wel de verwachting dat de lycra van een zwaardere kwaliteit zou zijn en dus wat meer "in bedwang" zou houden. Dat is het dus niet het geval. Het materiaal is van een dunne kwaliteit, in combinatie met de extra bandjes, is dit wat minder flatteus dan dat je hoopt. Voor iemand met modelmaten, is het dus een prachtig badpak, maar ik zoek nog even verder :)
Robin van Rooij
&nbsp|&nbsp
24-05-2019